Project Description
Analytic Jena
The life science division of Analytic Jena, based in Germany, is a leading provider of high end analytical measuring technology, instruments and products in the fields of biotechnology and molecular diagnostics and high quality liquid handling and automation technologies.
InnuPure® C16 touch – The New Standard in Automated Extraction
Product info:
Fully Automated Nucleic Acid Extraction
In addition to automated protocols for bacteria, viruses, as well as human, animal and plant tissues, customers can easily process complex forensic samples and highly processed food. The system also provides enrichment routines for cell-free nucleic acids and allows users to conduct bisulfite conversion for epigenetic analyses. High-quality magnetic and paramagnetic particles act as the solid phase for binding nucleic acids. Buffer conditions are set both to create a fine particle dispersion in solution and to ensure fast, quantitative sedimentation during collection, while the multifunctional heating/magnetic unit (IHMU – Intelligent Heating/Magnet Unit) is moved into position under the bottom of the reagent cartridges. The liquid can then be reliably aspirated without transferring magnetic particles. The heating function supports the automated process during lysis, drying and elution. Residual solvent, which can potentially inhibit subsequent applications, are removed effectively, and nucleic acids are efficiently desorbed in the elution buffer.
Rounding out the overall application is the use of patented
DC-Technology® (Dual-Chemistry). The use of variable buffer systems while simultaneously reducing the concentrations and/or ionic strengths required creates the perfect conditions for proteolytic lysis and reduces the potential risk of transferring salts into the eluted sample. This results in optimized workflow times and the extraction of high-quality nucleic acids.
Features:  https://www.analytik-jena.de/en/life-science/products/prod/cat/automated-extraction/prod/innupure-c16-touch.html
Technical Data:  https://www.analytik-jena.de/en/life-science/products/prod/cat/automated-extraction/prod/innupure-c16-touch.html
Product Brochure:  https://www.analytik-jena.de/fileadmin/content/import/imported_dam/InnuPureC16_touch_Broschuere_eng_WEB_geschuetzt.pdf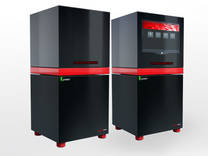 qTOWER3 – Real-Time PCR Thermal Cycler
Vision, Amazement, Simplicity: the new qTOWER³ real-time PCR thermal cycler from Analytik Jena.
The patented fiber optic shuttle system with unique light source powered by 4 high-performance LED's guarantees ideal excitation and detection of known fluorescent dyes up to the dark red. In addition, the system's highly sensitive detection module can be equipped with up to 6 different filter modules. Filter modules are upgradeable, allowing the system to benefit from future Analytik Jena developments. And, enjoy peace of mind knowing that the qTOWER³'s optical components are backed by an industry-leading 10-year warranty.
Silver block technology is at the heart of the qTOWER³, offering outstanding control accuracy of only ±0.1 °C over the entire 96 well block. Optionally, the linear gradient function is the optimal tool to easily adjust the instrument to new assays. The qTOWER³ is available either as stand-alone device with integrated 10" tablet or as PC-based system. The software comes with a broad spectrum of optimized analysis algorithms including absolute and relative quantification, ddCt method, PCR efficiency, allelic discrimination, endpoint detection as well as melt point and protein analysis.
Features:  https://www.analytik-jena.de/en/life-science/products/prod/cat/real-time-pcr/prod/qtower3.html
Project Details
Date 27 June, 2018
Tags PCR